Rapid Transformation Consultant
$1,700.00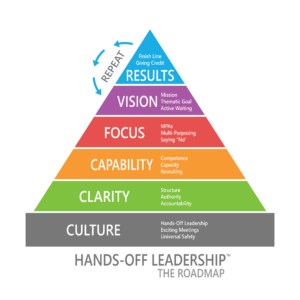 Transform and empower a key leader (or single team) in place, without hiring a full Transformation Executive. Featuring Neverboss™ coaching and training using the Hands-Off Leadership™ roadmap​.
Description
Move your leadership from "top-down" to "everyone a leader" with Hands-Off Leadership.
​Quickly uplevel a leader or team and you'll transform the entire team, department, or company they lead. A highly-experienced Neverboss™ Hands-Off Leadership™ advisor (matched to your needs) uses our methods to coach, mentor, train, and transform one key leader or team in place, as they get their actual work done.
Ideal for new, rising, or high-potential-yet-underperforming leaders or teams. First, we meet with them to ensure that they see this as a positive, life-changing, career-changing perk you're providing the help them. Then we dive right in, coaching and mentoring by tackling the actual issues they face right now. Your leader or team will learn by doing, applying principles they can reuse over and over and pass along. Coaching and mentoring topics will develop principle-based leadership, empowerment and ownership, and resolve other issues as they are identified and needed, so the coaching always applies to what matters most, right now.
Duration: 1 to 24+ months until the transformation "sticks," depending on specific needs and challenges.
Service level: 1 hour per week plus 1 additional hour/month for ad hoc needs, laser communication, additional training, mentoring, or coordination.
Prerequisites: Free initial consultation, to determine your needs and ensure likelihood of success. We don't take on assignments unless we are confident that the change can happen.
Terms and Guarantee: Price shown is first month's deposit. Additional months billed semi-monthly, Net 15. Our Rapid Change Guarantee applies. Full contract will be provided prior to engagement.