Rapid Leadership and Culture Change (Proposal)
$0.00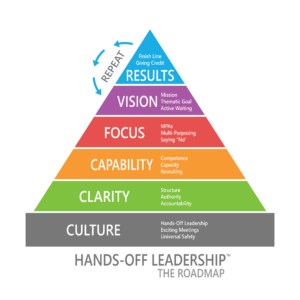 Build an all-leaders organization. Align and empower key leaders and key workers in place, without hiring a Transformation Executive. Featuring Neverboss® coaching and training using the Hands-Off Leadership™ roadmap.
Description
Move your organization from "leader-follower" to "leader-leader" with Hands-Off Leadership.
For rapid culture change with less monthly cost than a dedicated Rapid Change/Turnaround Executive, this is your best option. A highly-experienced Hands-Off Leadership expert uses our proprietary methods to coach, mentor, train, and transform your CEO and executive team—or key teams and/or key players. This usually starts with the executive team OR key leaders in a single division or department.
After we inspire full, enthusiastic buy-in from your people, coaching and happens in the actual meetings where you tackle day-to-day issues of running the business. Your people learn by doing, so they learn, remember, and master the new methods and principles. Other coaching and mentoring happen individually to develop leadership, empower people with specific tools, and resolve individual issues, with some group rapid training sessions as needed to resolve key sticking points.
Duration: Typically 3 to 6 months per department, 12+ months for an entire organization, depending on your size, needs, and challenges.
Service level: 5 hours per week plus 1 additional hour/week for ad hoc needs, laser communication, additional training, mentoring, or coordination.
Prerequisites: A Management Systems Analysis and Design or prior Rapid Leadership and Culture Change assignment to assess and plan.
Terms and Guarantee: You will see rapid, positive change you love, every month, or you don't pay. See our Rapid Change Guarantee for details. Full contract will be provided prior to engagement.